More than ever, companies have been seeking and investing a lot in space solutions and technological advancements to attract people to the workplace, thus keeping their employees inspired for improved productivity and job satisfaction. With numerous trends happening today, we listed here the top 10 innovative office solutions from space concepts, furniture to technologies that will definitely keep yours up to date.
1. Office Pods / Phonebooths
Lack of sound privacy and distraction from noise can be frustrating when we are trying to concentrate at work, have a quick meeting, or answer phone calls in the middle of the workplace space. Today, building walls is not the only solution. Companies such as Framery have introduced the advantages of office pods in meeting the needs for privacy and flexibility, especially in an open-plan workspace. Not only that they are soundproof, functional, and aesthetically pleasing, but they are more sustainable in terms of cost and maintenance.
2. Room Scheduling System
Imagine you have a large workplace, with multiple meeting and collaborative rooms, and full pact sessions scheduled in a day, managing your office spaces can be quite challenging. RoomWizard by Steelcase is an example of a room scheduling system that is designed to make it easier for you to find available spaces, book and reserve them, helping you avoid duplicate reservations, overlapping meeting hours for smart space management, but as well as assist you in wayfinding.
3. Height-adjustable desks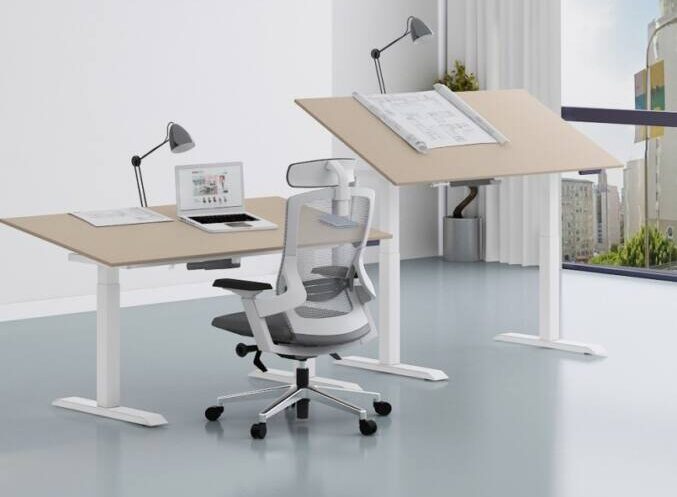 Well-being is one of the hot topics in office spaces today. Researches have shown that having a single posture on the average 8-hour job, has a negative impact on the overall health of employees. With this, active workstations such as Max Series Height-Adjustable Desk by Workspace are designed to encourage movement and flexibility within your desk space. This sit-stand desking solution gives you the ability to adjust the desk height to match your need and preference, increasing comfort and accessibility while taking improving health and focus.
4. Movable Desks
Collaboration has shaped teams' creativity, design thinking, and innovation. It changed the old manner of brainstorming from a round-table discussion to a more agile practice, diverse behavior, and rapid exchange of ideas. The new generation of thinkers and teams require a lot of space flexibility and interconnected systems that would support work as an individual as well as a large group. The Flex Collection by Steelcase is a perfect furniture solution that can adapt to these hyper-collaborative teams. It features height-adjustable desks on wheels, designed for mobility, and integrated analog and digital tools such as writing boards, screens, and filling walls to support dynamic activities.
5. Biophilic Designs
Biophilia is not a new concept in the field of interior design that suggests that we humans have an innate inclination towards nature. It has also been proven to minimize stress, improve cognitive function and enhance overall satisfaction and comfort. The presence of natural elements such as sunlight and plants in built spaces, allows us to reconnect with nature even while spending 80-90% of our time indoors.
6. Multifunctional Furniture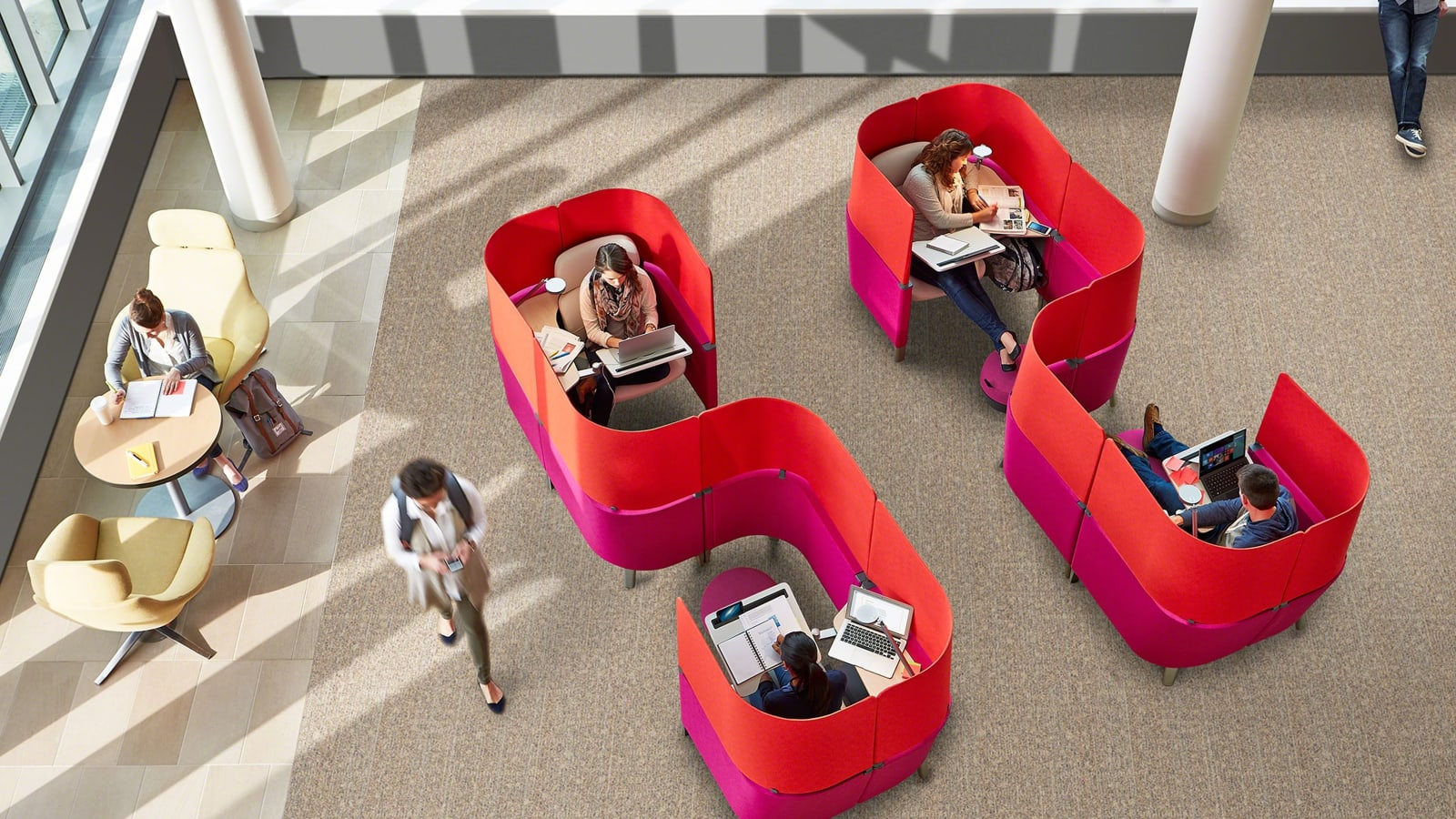 Let's face it, we can't imagine ourselves working without the use of technology, and having it supported in our furniture just give us an unparalleled convenience and user experience. One of the finest examples is Steelcase's Brody Worklounge. Brody is an alternative to enclaves, designed with integrated tools such as adjustable worksurface, privacy screen, personal lighting, and storage in an ergonomic lounge setting. With only a small footprint, it is a compact solution that creates a personal shelter in the middle of an open space.
7. Zen Rooms
Office life can be demanding and stressful in the midst of dealing with heavy workloads, conflicts, insecurities, expectations, and deadlines. Constant encounters with these stressors can result in poor mental health that can directly impact an employee's productivity and effectiveness. Zen room in an isolation space for complete silence, peace, and tranquility. It acts as a momentary escape to be able to regain focus and clarity, thus pulls us out of living mindlessly.
8. Informal Breakout Spaces
The feeling of exclusion, emotionally or physically, hinders communication and trust within a workforce, resulting in lower organizational engagement. Spaces that cultivate conversation and social interaction can be a great tool in achieving a sense of belongingness. Companies have recognized the potential of informal breakout spaces in achieving work-life balance and sees it as more than an unnecessary, luxury space.
9. Art
Art's ability to inspire and boost creativity has been overlooked by many designers and organizations in developing strategies to improve the overall workplace experience. A single art may seem to be just filling empty spaces, or an opportunity for branding but a well-thought use of interesting pieces can make a huge impact on fostering learning, communication, and critical thinking. It can make common and idle spaces such as elevators and hallways interesting, engaging and pleasurable for visitors and customers.
10. Modular Workstations
A modular workstation that can be reconfigured at any time is a great investment for ever-changing office requirements. Bivi of Turnstone is a fully-loaded desking system that can be configured in endless ways, that adapts to your needs, whether you want a desk today or soft seating tomorrow. And yes! there is more. It is designed with jaw-dropping accessories that will surely blow your mind like bike racks, skateboard racks, planters, canopies, etc.