Looking for the right furniture for a small space? Here are some of our best picks from Ikea, a global home furnishing brand, popular for its affordable products and ready-to-assemble solutions, that can definitely maximize your space in a stylish way.
1. Smastad Loft Bed
A compact bed and storage solution for your little ones.
Dimensions: L207 x W104 x H182 cm
To buy: $741 – IKEA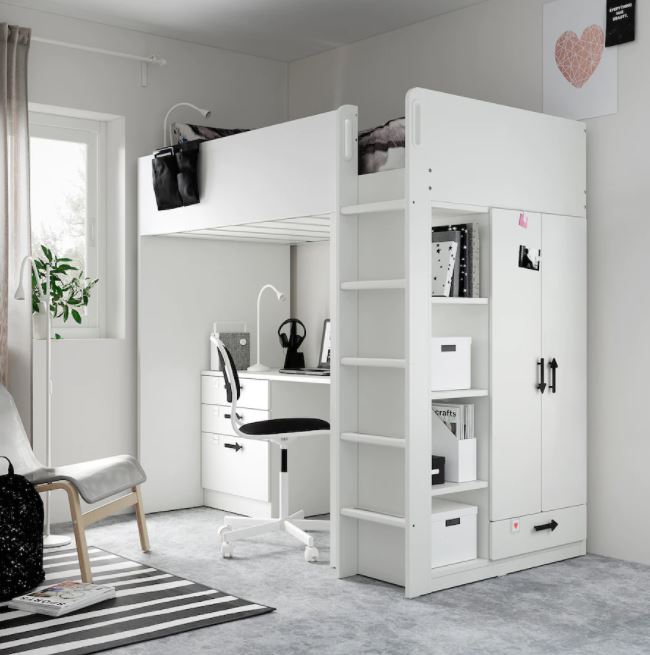 ---
2. Stora Loft Bed
Maximize your vertical spaces with this multifunctional bed, with just a minimum of 270 cm ceiling height. With about 4 sq.m of under-bed space, you can have a study table, a lounge setting, or mini closet space.
Dimensions: L213 x W207 x H214 cm
To buy: $299 – IKEA
---
3. Jonaxel Open Wardrobe System
Light, customizable and affordable! What we like about this solution is that it keeps everything visible at one glance, not letting any item disappear in the forgotten corners of the closet. Plus, it will actually make your space look bigger.
To buy: $284 – IKEA
---
4. Sunnersta Mini-Kitchen
Ever imagined having an instant durable kitchen? We think that this mini-kitchen is one of the best IKEA products. Can be used down to the minimum essentials and upgrade by adding accessories such as hooks, lighting, and shelves.
Dimesions: L112 x W560 x H139 cm
To buy: $149 – IKEA
---
5. Norden Dining Table
This smart product speaks for itself. For limited space, this is more than a generous space-saving solution, with an extendable table for up to 4 people and cutlery storage in the middle.
Dimensions (table top up) : L152 x W80 x 74 cm
To buy: $199 – IKEA
---
6. Fredde Gaming Workstation
Calling all gamers out there! Ikea has released a compact workstation designed to support your keep you comfortable for long hours in front of your computer. It features a contoured tabletop, side shelves for speakers, cup holder and high side panels to prevent distracting glare.
Dimensions: L140-185 x W74 x H146 cm
To buy: $299 – IKEA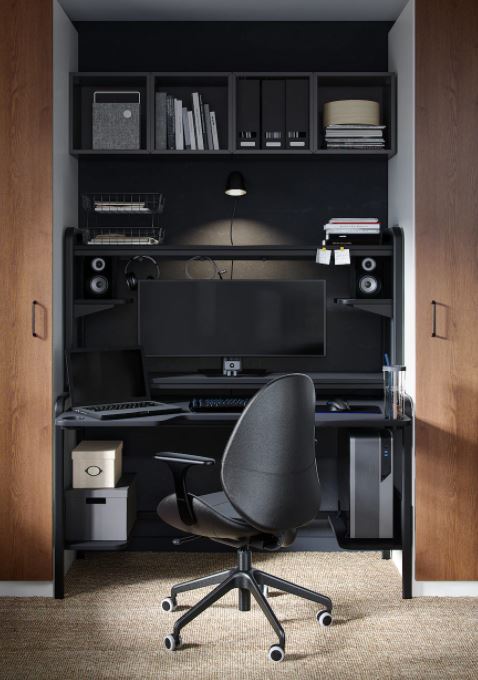 ---
7. Skadis Pegboard
Here is a convenient solution to keep your small things organized. Not only it helps you save some horizontal space but it is very useful in a lot of ways, such as hanging kitchen items, a supply station for your stationeries, a flexible gallery, and an outdoor planter.
To buy: $39 – IKEA
---
8. Mojlighet
Mirror, mirror on the wall, isn't this the coolest of them all? Our favorite is the phone holder!
Dimensions: W34 x H81 cm
To buy: $29 – IKEA
---
9. Storjorm
Finally, a bathroom mirror with a built-in LED light and internal storage. It might not be a new concept but still, one of the space-saving solutions to have.
Dimensions: L60 x W14 x H96 cm
To buy: $249 – IKEA